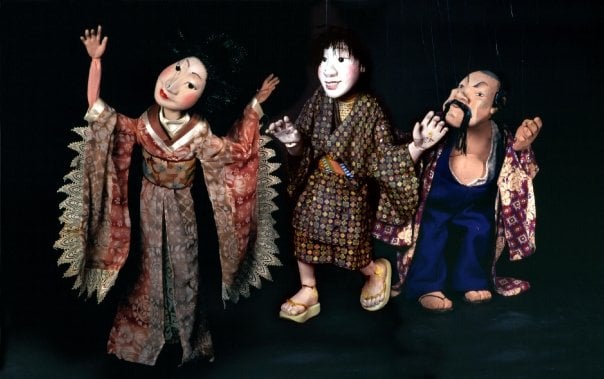 A traditional Japanese folktale.
Based on the ancient Japanese folktale of a poor but honest young man who saves the life of a wounded crane.
In this lively retelling of a traditional Japanese folktale, Good and Evil battle for the soul of a young man, interfering in his live and even changing his destiny.
The spiritual mystery of Japanese music, the delicate and touching lyricism of Haiku poetry, the detailed and at the same time symbolic visual elements of the production create a universe filled with subtlety, inner power, moral significance, and a deep sensitivity to the beauties of the natural world.
This production is nominated for 'Best Theater for Young Audiences' and the recipient for 'Best Choreography'
at the 2015 Wilde Performing Arts Awards.
FOR TEACHERS
BOOKS TO READ
1. Mysterious Tales of Japan – by R.Martin. G.P.Putnam's Sons, 1996.
2. The Crane Wife – by S.Yagawa. William Morrow and Co, 1981.
MUSIC, DANCE
1. Book. Music and Dance – by N.Morris. Crabtree Pub, 1976.
2. CD. Japan. Traditional vocal and instrumental music.
Electra Asylum Nonesuch records, 1976.
3. CD. Japanese K O T O Orchestra. Lirichord Discs, 1976.
4. CD. Japanese Noh Music. Lirichord Discs,
ART
1. One Day in Japan with Hokusai. ( Japan's most famous artist, 1760-1849 ).
Prestel Verbag, 2001.
2. HIROSHIGE. Japan's great landscape artist. By Isaburo Oka. Kodansha Int, 1997.
3. Landscapes and Portraits – by D.Keen. Polo Alto and Tokyo: Kodasha Int, 1997.
4. Great Works of Japanese Graphic Art – by D.Mannering. Shooting Star, 1995.
5. How Artists see Animals – by C.Carrol. Abbeville Pub Co, 1996.
Learn about the World by looking at Art, and about Art looking at the World.
POETRY
1. The Essential HAIKU – by R.Hass. Ecco Press, 1994.
2. An Introduction to HAIKU – by H.Henderson. Doublday, 1958.
HISTORY, CULTURE
1. Japan. The Cycle of Life. Full color photos. Kodasha Int, 1997.
2. Step into Ancient Japan – by F.McDonald. Lorenz Books, 1999.
3. Japan. Land of Rising Sun. Children's Press, 1997.
4. I live in Tokyo – by M.Takabayashi. Houghton Miffin, 2001.
LET's LEARN
Japanese picture Dictionary – by M.Goodman. Passport Books, 1992.
PUPPETRY
Puppets of Nostalgia – by J.Law. Prinston University Press, 1997.
PLEASE SUPPORT THE MAGIC OF PUPPETRY!