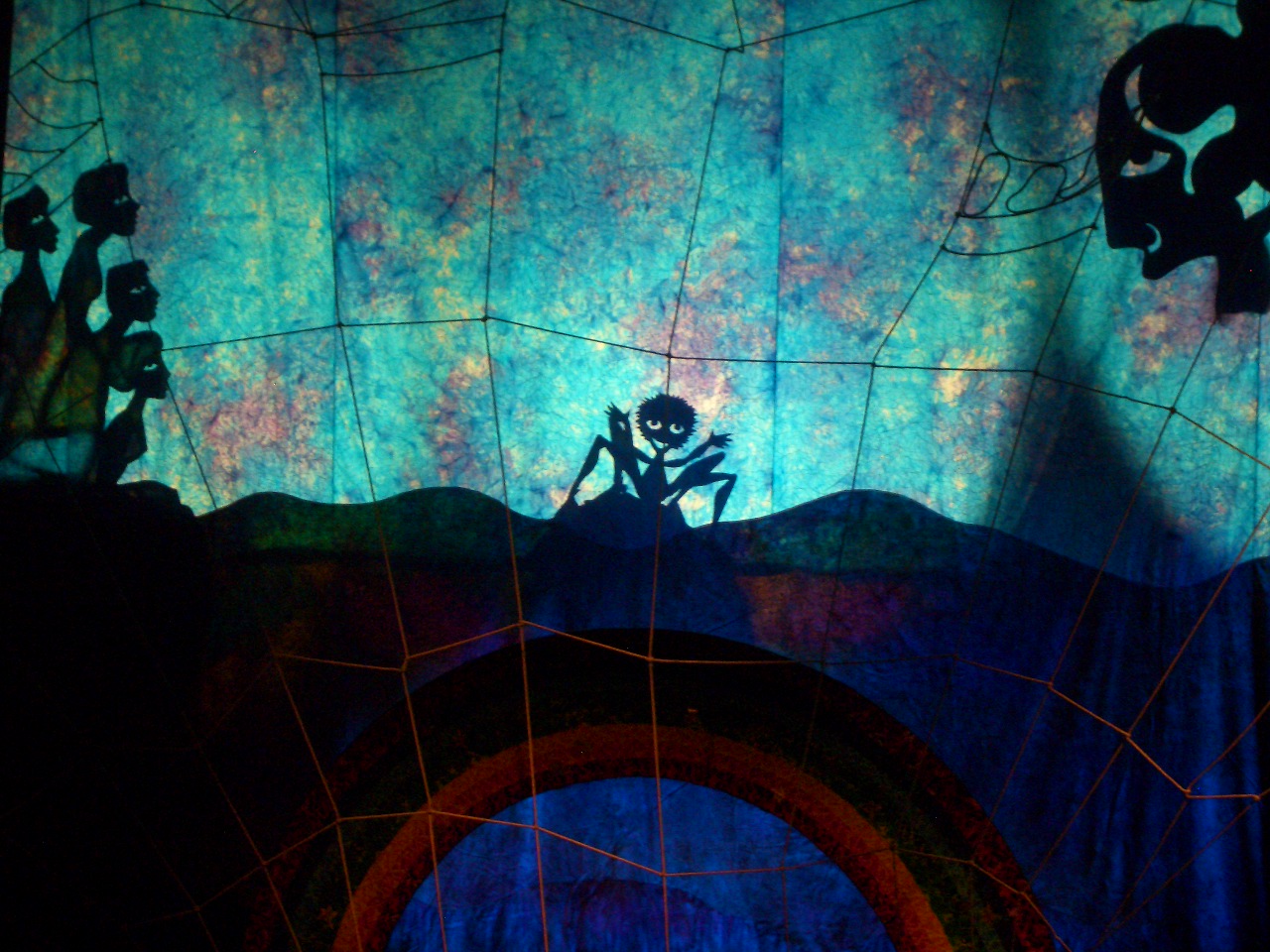 Inspired by a West African tale.
When Ananse wants to earn the right to tell stories to his people the sky god Nyame gives him three daunting tasks.
"Kwaku Ananse, the spider man, he loved to talk, he loved to hear and tell stories. And he wanted to own all the stories in the world, so he could share them with all of you, his friends."
This production tells about Nyame, the Sky God, who owns all the stories in the world, and gives Ananse the chance to earn the right to tell them to the people if he passes three challenging tests. Ananse is only successful with the help of his wife Aso.
The performance features a hip-hop influenced libretto and soundtrack. Script and songs by Jahra M. McKinney
BOOKS TO READ
1. The Adventures of Spider – by J. C. Arkhurst. West-African tales. Little, Brown, and Co., 1964.
2. Anansi does impossible – by L. Desimini. Aladdin Paperbacks, 1997.
3. Anansi finds a Fool – by V. Aardema. Dial Books for young readers. 1992.
4. Anansi and Moss-Covered Rock – by E. Kimmel. Holiday House, 1988.
5. A Story — A Story – by G. Haley. Aladdin Books. 1980
6. A Ring of Tricksters – by V. Hamilton. Animal tales from America West Indies and Africa.
The Blue Sky Press, 1997.
MUSIC
1. CD. Pata Kin. World Tales of Drums and Drummer – by N.Jaffe. Cricket Books, 2001.
2. CD. Wonche Bi. Alula Records, Inc, 2001.
A Magician of drums Obo Addy embodies the past, present , and future of Ghana's culture.
3. CD. Africa. Putumayo World Music, 1999.
4. CD. Master Drummers of Dagbon. Rounder Records Corp, 1992.
A R T
1. Dogon. Africa's People of the Cliffs – by S.Hollyman. Harry N.Abrams, Inc. 2001.
Book of photographs, in full color.
2. A Short History of African Art – by W.Gillon. Penguin Books, 1991.
3. Art for Children . Animals Observed. Stewart, Tabory, and Chang, 1999.
Human imagination on depicting animals.
4. The Spirit of Folk Art – by G.Glassie. Harry N, Abrams. Inc, 1995.
Museum of International Folk Art collection.
5. How Artists see Animals – by C.Carrol. Abbeville Pub Co, 1996.
Learn about the World by looking at Art, and about Art looking at the World.
6. Okavango. Africa's Westland Wilderness – by A.Bailey. Struik Pub Ltd, 1998.
POETRY
1. Off to the Sweet Shores of Africa . Talking Drum Rhymes – by Uzo Unobagha. Chronicle Books LLC, 2000.
HISTORY, CULTURE
1. Africa – by Y.Ayo. Dorling Kindersley, 2000
Lifestyles, skills, beliefs, and crafts of people of Africa.
2. Africa. Cultural Atlas for young People. Africa's past and recent history – by J.Murray.
Facts of Life, Inc. 1990.
3. Read-About-Geography. AFRICA – by A.Fowler. Children's Press, 2001.
4. Brain Quest. Black History. Ages 9 and up.
850 Questions and Answers on African-American Heritage. Workman.
SCIENCE , NATURE
1. Amazing Spiders – by A. Parrons. Alfred Knopf, 1990.
2. What is a Living Thing ? – by B. Kalman, Crabtree Pub Co, 1999.
3. Do All Spiders Spin Webs ? Scholastic Inc, 2000.
4. African Animals. A True Book – by A. Squire. Children's Press, 2001.
5. African Grassland – Animal Homes – by C. Longman. Peter Bedrick Books, 2001
PLEASE SUPPORT THE MAGIC OF PUPPETRY!